Our Speciality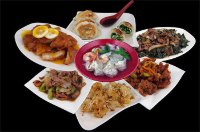 Hui's Wontons serves Authentic and North Americian Chinese style food featuring homemade wontons and Northern Chinese dumplings.
We strive to produce healthy and delicious Chinese food by using fresh vegetables, noodles and lean meats. Hui's Wontons never adds MSG and we minimize the amount oils used in the cooking process. Our deep fried foods are cooked in 100% trans fat free canola oil..
The result is tasty chinese food that is also good for you.